Only a few steps are required to create bootable USB drives with the free software Rufus. This is how you proceed to create a Windows boot stick:
Invite Rufus from the Hersteller-Website

down.
Insert an empty USB stick with at least 8 GB into your PC. Important note: Please note that the data stored on the USB stick will be completely overwritten when recording with Rufus.
With the file explorer, navigate to the directory with the downloaded file and run the Rufus exe file, for example rufus-3.17.exe or similar. The window that opens now should look like the following.
Under the menu item "Startup type" the entry "Medium or image file (Please select an image)" should be active. If this is not the case, please select the corresponding entry.

Now click on "SELECT" and navigate to the Windows operating system ISO file. Among other things Windows 10 and Windows 11 are suitable to create a boot stick. If you buy Windows through our store, you will be provided with the corresponding ISO download link during the order process. After file selection, the name of the file is displayed in the "boot type" field.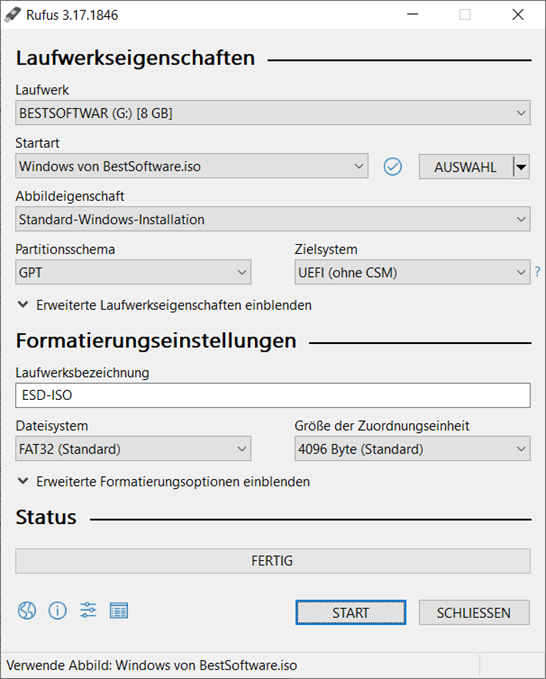 Now it is necessary to select the correct partition scheme, which ultimately depends on the BIOS. GPT should be chosen if it is a system with UEFIBIOS. This newer standard should be preferred over MBR if supported. MBR is the applicable option for devices without UEFIBIOS. TIP: If in doubt, just choose one of the two partition schemes, do the other steps and test if the stick works on the target device. If not, create a new stick specifying the other partition scheme.

Click on "START" to start the writing process. After the process is finished a "DONE" is displayed in the green shining status bar for confirmation. The boot stick is now ready and Rufus can be closed again.